INFORMATION
The Swan Lake: The Story behind the most romantic ballet in the world
A masterpiece of classical ballet, the Swan Lake is back with a new tour in France and Europe. In 2023, rediscover the romance of a prince and a swan princess in a brand new show, with the participation of the following soloists: Igor Onoshko, Artem Bankovsky, Olga Chelpanova, Oksana Bondareva, Liudmila Ulantseva! The Swan Lake is performed by The Ballet Academy Budapest and Hungarian National Symphony Orchestra Szeged.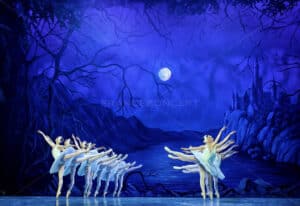 The ballet was composed by the Russian composer Pyotr Ilyich Tchaikovsky whose works included symphonies, concertos, operas, ballets, and chamber music. According to Tchaikovsky's colleagues, the composer was interested in the tragic life of Bavarian King Ludwig II, who was possibly a direct or indirect archetype of the prince.
How The Swan Lake ballet was created !
Now, more than a century after its creation, The Swan Lake is still the most popular romantic ballet in the world. There are countless adaptations that contribute to the success and longevity of the work.
This two-act ballet, with a duration of 2.5 hours, takes us into the love story of Prince Siegfried and Princess Odette.
Act I
Princes and Princesses of royal families arrive to celebrate Prince Siegfried's birthday, while the young girls are anxiously seeking his attention.
The Birthday celebration continues, but the prince is tired of the grand ball given in his honor.
The moonlight glows on an enchanted lake where swans gently float across its surface. Siegfried meets Odette and is stunned by her mysterious beauty. Odette and her friends are, unfortunately, a prisoner of the famous fate of the magician Rothbart: they turn into swans during the day and return women at night. Only the promise of eternal love can free them from this bewitchment.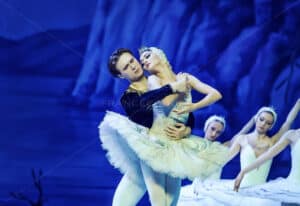 Act II
A great party is held in the castle, as the prince must choose a bride. Many suitors are introduced to the King and the Queen.
Then trumpets announce the arrival of Rothbart who comes with his daughter, Odile, on whom he has a spell to appear as Odette.
Thinking that this is Odette, Prince Siegfried dances with the imposter. Suddenly, the real Odette appears, and Prince Siegfried realizes his mistake. Will they escape the tricks of Rothbart and his daughter Odile? Will the prince succeed in saving his bride?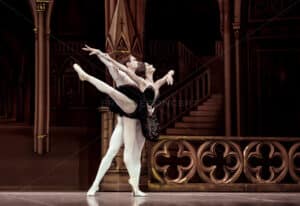 White Swan VS Black Swan
In art and literature, the swan is a symbol of whiteness, power, grace, and light. Moreover, black and white are associated with the confrontation between kindness and evilness. Therefore the opposition of the white and the black swan refers to the correlation between light and darkness, or day and night.
The Swan Lake is the most romantic ballet in the world. It explores the meanders of eternal love and continues to seduce generations. This must-see performance will take place at the Palais des Congrès in Paris and will have a tour in France, but also in Germany, The Netherlands, Belgium and Luxembourg.
ALL
Belgium
Center
East
France
Germany
Luxembourg
Netherlands
North
Rhone Alpes
South east
South west
West
ALL
Aix en Provence
Albertville
Amiens
Amsterdam
Angers
Annecy
Antwerpen
Arras
Bar-le-Duc
Beauvais
Besançon
Bordeaux
Bourg-en-Bresse
Bremen
Brest
Bruges
Brussels
Caen
Chambéry
Clermont Ferrand
Den Haag
Dijon
Douai
Duisburg
Dunkerque
Frankfurt
Grenoble
Karlsruhe
Laval
Le Cannet
Le Havre
Liege
Lille
Limoges
Luxembourg
Lyon
Maastricht
Mâcon
Mannheim
Marseille
Metz
Mons
Montbeliard
Montélimar
Montpellier
Mulhouse
Nancy
Nantes
Narbonne
Nice
Nuremberg
Orléans
Paris
Pau
Poitiers
Reims
Rennes
Rotterdam
Rouen
S-HERTOGENBOSCH
St Brieuc
St Étienne
St Malo
Strasbourg
Toulouse
Tours
Troyes
Ulm